I really like muralist's
Sofia Maldonado's work. I recently came across her 42nd Street Project

which was featured

in Times Square, New York. The mural managed to cause a bit of a debate and criticism.
"These negative depictions of women [are] a cartoonish buffoonery that we cannot have," said Anthony (Tony) Herbert, co-founder of the
Urban Community Council
, a networking group that organized a protest in front of the artwork last month. A huge mural depicting curvy, bling-laden, bosom-baring Afro-
Caribbean
Latinas in
Times Square
has spurred demands to bring it down.
"This is an ongoing campaign to ensure that black and Hispanic kids get the opportunity to see heroes in a positive light," Herbert added. "We cannot afford to have this kind of negativity thrown in their faces, in essence saying it's art."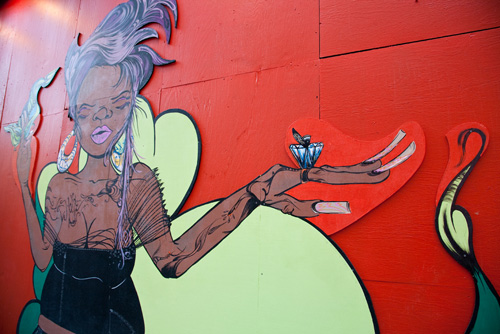 Sofia does address the much debated project, she says "I'm not trying to generalize Latino and black women."
more
More for artwork click
here
What do you think do these murals depicate women of colour in a bad light?